MORENO VALLEY, CA- A 93-year-old retired plumber is being hailed as a hero after he critically wounded a burglar who broke into his home in a botched robbery attempt last week.
According to the Daily Mail, Joe Howard Teague shot 33-year-old Joseph Ortega, one of a group of burglars who broke into his home just after 12:30 a.m. last Wednesday.
Teague told reporters that the group began to throw things at him as they approached him, despite his repeated warnings that he had a shotgun. The group kept throwing things at Teague, with one even coming at him with a fishing pole as he approached them for a citizen's arrest.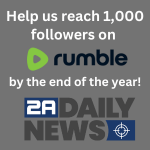 "It was just like somebody comes to a gunfight with a pocketknife, you know," Teague told ABC News.
Teague called 911, told dispatchers to report a burglary in progress, and informed dispatchers that he was holding the suspects.
"When deputies arrived at Teague's home, they found one of the suspected burglars suffering from a gunshot wound," ABC reported. "A witness told deputies that several people were seen fleeing Teague's home on foot prior to the arrival of deputies."
Inside Teague's home, they found Ortega with a gunshot wound. Homeowner Teague was taken to a Riverside County Sheriff's station, questioned, and later released.

Ortega was transported to the hospital where he was still listed as being in critical condition on Thursday, according to ABC.
This was not the first time Teague had to call authorities for burglars breaking into his home.
"He was tired because every time he calls the police, the police were taking forever to come and assist him," Relative Oscar Malma told KABC Los Angeles, adding that a burglary at Teague's home last Friday occurred in broad daylight. "And now this happened in the middle of the night."
Malma believed the burglars had been targeting Teague because of the valuables he had in the house.
"They were looking for him. He's an old, retired plumber. He has a lot of tools…he's a musician as well, so he's got a lot of musical instruments," Malms said. "Little by little, they've been ripping him off."
OUR TAKE
What a badass American Joe Teague is! We hope that we live as long as he is — but especially that we can be the kind of hard man he is!
While we are celebrating Teague, we must also point out that this happened because police have been slow or non-responsive to his calls for help when people broke into his house.
The assumption among many anti-Second Amendment types is that there is no need for you to have a gun because the police will take care of you and only they need to have weapons!
That sounds like reasonable, except in those instances where law enforcement isn't swift to serve and protect you.
Ultimately, the responsibility to defend yourself is yours alone, making fighting against unjust gun-control laws all the more necessary.
The example of Teague defending his property is just another case to show why gun owners must never compromise on their Second Amendment rights.
At the same time, Teague is an excellent example of how you are never too old to exercise your God-given right to self-defense. If you are an older reader and, for whatever reason, think you are too old to learn how to be proficient in firearms, let us reassure you that you are not. We encourage you to learn more and exercise this great American right.