TEMPE, Ariz. – Midterm elections mean Americans will see their televisions invaded by commercials for congressional candidates, most of which contain the standard fare of patriotism, Washington corruption, and shaking up the establishment.
But Pastor Jerone Davison, a Republican candidate in Arizona's Fourth Congressional District (Tempe, Mesa, Chandler, Ahwatukee), hit the airwaves with an advertisement on Wednesday that was not only original, but a lot more provocative than the usual political ad.
The campaign ad, entitled "Make Rifles Great Again," depicts Davison seated in a kitchen drinking coffee and praying as a group of hooded and robed members of the Ku Klux Klan descended on his home. The Klansmen in the video were armed with items such as a hammer, an ax, and a baseball bat wrapped in barbed wire.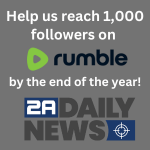 Watch it here:
"Democrats like to say that no one needs an AR-15 for self-defense," Davison is heard saying in the thirty-second video, as reported by the New York Post. "That no one could possibly need all 30 rounds. But when this rifle is the only thing standing between your family and a dozen angry Democrats in Klan hoods, you just might need that semi-automatic and all 30 rounds."
The New York Post noted that the Klansmen in the advertisement were wearing robes with a donkey printed on the front, alluding to the symbol of the Democratic Party.
The video depicts Davison heading out of a house to confront Klan members armed with a sporting rifle. The Klansmen scatter, and one of the final images of the ad shows an empty Klan hood floating in the water.
Davison, a former football player at Arizona State University and the NFL's Oakland Raiders (as they were known when Davison played for them in 2005), is in a five-person race for the Republican nomination in Arizona's Fourth Congressional District.
The Arizona Republican Primary will take place on August 2nd.
OUR TAKE
How fun is it to see a political candidate make an ad that you just know is going to trigger the left and set Twitter on fire? We especially appreciated the fact that Davison stuck to his guns, refusing to pull the ad after the Highland Park shooting.
A lesser RINO candidate wouldn't even make an ad like this; and if they did, they would apologize and pull it down and grovel the minute the left started to raise a fuss.
We love candidates who aren't afraid to boldly show their love for the Second Amendment, and they are needed now more than ever on Capitol Hill, especially in the wake of RINO cowardice in the Bipartisan Safer Communities Act debacle.