PHILADELPHIA, PA – While the nation's attention was captivated by the murderous rampage of Robert E. Crimo III during the Highland Park, Illinois Fourth of July Parade, the embattled city of Philadelphia's Fourth festivities were disrupted when two police officers were shot on Monday.
According to CNN, the officers were shot while providing security at a Fourth of July concert on the Benjamin Franklin Parkway. The wounded officers were identified as Philadelphia Police Officer Sergio Diggs and Montgomery County Sheriff's Deputy John Foster.
Both officers were treated at a hospital and have since been released.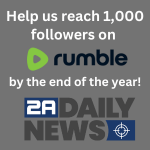 Democratic Philadelphia Mayor Jim Kenney promptly blamed the Second Amendment and the Supreme Court for his city's out-of-control gun violence.
"It was a chilled back day, beautiful weather. But we live in America where we have the Second Amendment and we have the Supreme Court of the United States telling everybody they can carry a gun wherever they want," Kenney whined to reporters on Tuesday, according to Fox News. "I was in Canada two weeks ago and never thought about a gun. The only people I knew who had guns in Canada were police officers. That's the way it should be here."
Statistics reveal that more and more Philadelphians beg to differ with their mayor.
The out-of-control gun violence that rocked the City of Brotherly Love has caused an unprecedented increase in applications for concealed carry permits. The Crime Prevention Research Center reported that the number of applications increased 600 percent from recent years in a March 2022 post on their website.
Women, in particular, appear to be driving the increase in applications, as CBS Philly reported last month.
Kenney, apparently oblivious to self-introspection on why violence in his city is escalating to a point where citizens are making a run on concealed carry permits, passed the buck on blame.
"If I had the ability to take care of guns, I would," Kenney told reporters, according to Fox News. "But the legislature won't let us. Congress won't let us. The governor does the best he can (and) the attorney general does the best he can but this is a gun country…Until Americans decide that they want to give up the guns and give up the opportunity to get guns, we're going to have this problem."
OUR TAKE
It's a stinging indictment of failed governance when the mayor of a town publicly expresses his desire to leave his office because his leftist policies have sunk the city into near lawlessness.
Bellyaching about never enjoying events that most big-city mayors would never dream of publicly complaining about (particularly given the economic benefits they bring) is a further indictment of his failed term as mayor.
Fox News reported that Kenney told reporters he did not enjoy festivities such as the Fourth of July, the Democratic National Convention, or the National Football League draft.
"I'm concerned every single day," the mayor added. "I'll be happy when I'm not the mayor."
Although CNN reported that Kenney attempted to clarify his statements, the damage has already been done.
We believe that every law-abiding, patriotic American has the right to exercise their Second Amendment rights. If they live in a town run by someone like Jim Kenney, protecting their Second Amendment rights to self-defense is twice as essential.
We're sure that the record numbers of people racing to obtain concealed carry permits will be happy when you aren't the mayor either, Jim.