Orlando, Fla.- Two robbery suspects are dead after the owner of the mall jewelry store they were attempting to hold up shot and killed them.
According to WESH, the incident occurred just before noon on Friday at the Magic Mall on West Colonial Drive.
The Orlando Police Department told ClickOrlando.com that four people, at least one of them armed, attempted to rob a jewelry booth in the mall when the store owner shot at them. One of the robbers was found dead at the scene, while the other three escaped and drove off. ClickOrlando.com reported that a vehicle was found nearby, with one suspect inside and a gunshot wound. The wounded robber was taken to the hospital, where he died.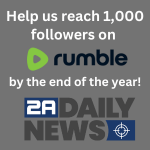 An eyewitness reported that one of the suspects jumped the counter during the robbery attempt.
"One of them got shot. He's dead behind the counter. The other one, they left in a car and he's up on Tampa Avenue, he died as well. I mean, this was a robbery. And the owner had a firearm, so he defended it," business owner Pete Lopez told WESH. "Can't just go and rob peoples' jewelry stores. You never know what's going to happen."

Another witness described what he saw as the first suspect died in front of him: "Jewelry was all around him. Some jewelry was out still. People were already gone and dead by the time the cops had got here."
OUR TAKE:
Bravo to the owner for knowing his rights and being ready to defend himself!
Also, just a note to any impressionable youth who may read this and contemplating giving into the temptations of our crime-glorifying culture and joining in the 'fun' themselves: notice how the two robbers who weren't wounded left the one who was injured to either be arrested or die?
There is no honor among thieves, indeed. They don't show those parts on Netflix or in the music video.