Twenty-four attorney generals signed a letter warning the chief executive officers of Visa, Mastercard, and American Express, to stop their plans to code and compile gun sales on Tuesday.
The letter, which according to CNBC, was written by Tennessee Attorney General Jonathan Skrmetti and Montana Attorney General Austin Knudsen, threatened legal action against the credit card companies if they were to adopt the International Organization for Standardization gun shop codes.
Earlier this month, CNBC reported that the International Organization for Standardization, which sets the standards for payment transactions, approved a special code for credit and debit card transactions at gun stores. Visa, Mastercard, and American Express said they would begin using the new code.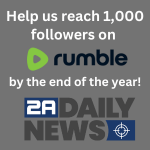 The move by the International Organization for Standardization and the credit card companies have been endorsed by Senator Elizabeth Warren (D- Mass.), some Democratic state attorney generals, and the gun-control group Everytown for Gun Safety, CNBC reported.
"John Feinblatt, president of Everytown for Gun Safety, said the move is a critical first step toward giving banks and credit card companies the tools they need to recognize dangerous firearm purchasing trends − such as a domestic extremist building up an arsenal — and report them to law enforcement," CNBC reported. "A merchant category code indicates the types of services or goods sold to consumers. Previously, gun store sales were categorized as 'general merchandise.'"
The twenty-four Republican attorney generals who signed the letter were openly critical of the change.
"The new code will not protect public safety. Categorizing the constitutionally protected right to purchase firearms unfairly singles out law-abiding merchants and consumers alike," the letter read. "First, efforts to track and monitor sales at gun stores would only result in vague and misleading information. This categorization would not recognize the difference, for example, between the purchase of a gun safe and a firearm. Nor would it capture firearm purchases made at department stores, resulting in arbitrarily disparate treatment of "gun store" merchants and consumers. More importantly, purposefully tracking this information can only result in its misuse, either unintentional or deliberate. Creating and tracking this data only matters if your institutions are considering using that information to take further, harmful action—like infringing upon consumer privacy, inhibiting constitutionally protected purchases by selectively restricting the use of your payment systems, or otherwise withholding your financial services from targeted 'disfavored' merchants."
The attorney generals advised the CEOs that they would be marshaling "the full scope of our lawful authority to protect our citizens and consumers from unlawful attempts to undermine their constitutional rights," the letter stated.
"Social policy should be debated and determined within our political institutions. Americans are tired of seeing corporate leverage used to advance political goals that cannot muster basic democratic support," the letter read. "The Second Amendment is a fundamental right, but it's also a fundamental American value. Our financial institutions should stop lending their market power to those who wish to attack that value."
OUR TAKE
Should these credit card companies not take heed and draw a line in the sand, preventing this noticeable advance of anti-gun tyranny, then every law-abiding gun owner needs to take every step necessary to cease dealing with such companies. Pay off any credit card debt you have with them and then grab the scissors and go Dave Ramsey on your Visa, Mastercard, or American Express.