WASHINGTON D.C.- The gun control group Giffords called for public pressure on Visa, Mastercard, and American Express to flag "suspicious purchases" of guns and ammo in a tweet sent out on Sunday.
"The shooters in at least 5 mass shootings have stockpiled guns & ammo using credit cards and killed 145 people," The tweet stated. "Visa, Mastercard, and American Express have the power to flag suspicious purchases and save lives. Call on them to act."
The tweet linked to an article by fellow gun-control group GunsDownAmerica, calling for establishing a "unique Merchant Category Code" that would categorize what they called "stand-alone gun and ammunition stores." Once identified as such, the GunsDownAmerica claims that banks would be able to flag suspicious activities as massive gun and ammunition purchases.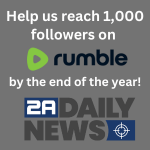 "Since no such code currently exists and gun stores are sometimes classified as "sporting goods" retailers, banks have no way of knowing that bad actors are suspiciously purchasing thousands of dollars of firearms and ammunition over a short period of time," the GunsDownAmerica article claimed.
GunsDownAmerica claims that Visa, Mastercard, and American Express are actively blocking efforts at establishing a Merchant Category Code.
OUR TAKE
Note that the tweet equates "suspicious purchases" with guns and ammo. Not certain types of firearms. Not with a certain amount of ammo. Not within a certain amount of time.
Nowhere in either the GunsDownAmerica article or the Giffords tweet do we see what they would consider an appropriate red flag in any of these categories. How many guns, how much ammo, and over the course of how long are things that they left unanswered.
Could it be that any gun or ammo purchase is suspect in the eyes of these groups? Does the fact that someone wants to purchase firearms and ammo automatically make them a "bad actor?"