MEMPHIS, TN – An hours-long shooting spree rocked the city of Memphis, resulting in four people dead, three people wounded, and ended in the arrest of a 19-year-old suspect on Wednesday.
ABC News reported that police arrested Ezekiel Dejuan Kelly, 19, without incident in the Whitehaven Memphis neighborhood after a high speed at about 9 p.m. Wednesday, marking the end of a shooting spree that took place throughout the city that began just before 1 a.m. Wednesday morning.
After killing his first victim, a 24-year-old man on Lyndale Avenue, just before 1 a.m Wednesday, Kelly renewed his rampage just after 4:30 p.m. by shooting a man at a gas station. There were six more shooting incidents and a carjacking before Kelly was arrested.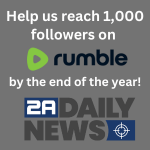 Police told ABC News that there could be more crime scenes.
"It's at least eight [crime scenes]," Memphis Police Chief Cerelyn "CJ" Davis said. "We are still in the throes of the investigation. There could potentially be other locations. There could potentially be other damage in other places."
Davis said that Kelly recorded some of his spree on Facebook Live, including a shooting at a store just before 6 p.m. on Jackson Avenue. WREG posted a timeline of Kelly's rampage on their website.
WATN reported that there was an active warrant out for Kelly on Wednesday resulting from the first shooting, which took place on Wednesday morning on Lyndale Ave. and resulted in the killing of the 24-year-old man. Kelly, according to WATN, had been out of jail for six months before the shooting spree began.
"In April 2021, Kelly, who had been charged with criminal attempted first degree murder, pleaded guilty to aggravated assault and was sentenced to three years in prison," according to Memphis Mayor Jim Strickland as reported by WATN. Strickland also said that Kelly was released in March after serving only 11 months.
OUR TAKE:
The murderous rampage of Kelly comes at a time when the city of Memphis was already reeling from last week's kidnapping, rape, and murder of kindergarten teacher Eliza Fletcher — who was murdered for the 'crime' of daring to go running in the early morning hours.
Like Ezekiel Kelly, Fletcher's murderer, 38-year-old Cleotha Henderson, was no stranger to a cell. Fox News reported that Henderson was sentenced to 24 years in prison for kidnapping and robbing attorney Kemper Durand in May 2000.  Despite the court order that Henderson serve 100 percent of his sentence due to his violent criminal past, he was released from prison early.
Fox News noted that had the court order from his sentence in 2000 been followed, Henderson would have still been behind bars on the day of Fletcher's abduction on September 2nd.  
The situation in Memphis this week has gotten so bad that it is getting to seasoned journalists. Take Joyce Peterson of Action News 5, for example.  According to her Twitter account, Peterson is a 2nd generation TV journalist and became so exasperated that she nearly broke down on the air during a live report from one of the crime scenes attributed to the hands of Kelly.
What are we to make of this?  Sadly, the news out of Memphis are tragic reminders of the importance of carrying a gun. A breakdown of societal order calls for nothing less. A justice system that cares more for the criminal rather than protecting the innocent also calls for nothing less. No one should be killed for the crimes of running or shopping at a store…and the police can't get to an active situation fast enough to save your life.