Three black men tried to rob an Asian man in Philadelphia outside of his home and learned the hard way that an armed victim doesn't make an easy target.
According to ABC 6 in Philadelphia, the Asian man was working as a delivery driver but went home to deliver some food to his own family. When the man went out the backdoor, three armed black men pointed guns at him.
The men demanded that the Asian victim hand over his belongings. At that point, the Asian victim told the men he had some money in his vehicle.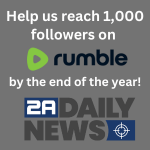 When the robbers began going through the victim's car, he pulled out his own firearm and started shooting.
Two of the robbers were hit in the gunfire, and the third fled the scene. He is still at large, according to police. One of the robbers is in critical condition, and the other died of his injuries.
Police say the victim had a permit to carry a firearm.
Violence continues to skyrocket across the country. Philadelphia has long had a significant issue with crime in the inner cities, and with the "Defund the Police" movement, crime will only worsen.
Gun ownership across the country continues to increase, with millions of new gun owners in the last year. Americans are learning every single day that they can't rely on the government to help them.