WASHINGTON, D.C. – While the nation was caught up in the fallout from the United States Supreme Court overturning the 1973 Roe vs. Wade decision, the House of Representatives passed the Bipartisan Safer Communities Act on around noon on Friday. 
With the Senate approving the bill late in the afternoon on Thursday, it now goes to President Biden, who is expected to sign it into law. 
The House passed the bill by a 234-193 vote, with 14 Republicans crossing party lines to vote with their Democratic colleagues. These include: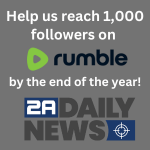 Rep. Fred Upton (R-Mich.)
Rep. Mike Turner (R-Ohio)
Rep. Steve Chabot (R-Ohio)
Rep. Anthony Gonzalez (R-Ohio)
Rep. Liz Cheney (R-Wyo.)
Rep. Chris Jacobs (R-N.Y.)
Rep. Brian Fitzpatrick (R- Pa.)
Rep. Tony Gonzalez (R-Texas)
Rep. Maria Salazar (R-Fla.)
Rep. Dave Joyce (R-Ohio) 
Rep. John Katko (R-N.Y.) 
Rep. Adam Kinzinger (R- Ill.) 
Rep. Peter Meijer (R-Mich.)
Rep. Tom Rice (R- S.C.) 
The House approval of the bill came the day after the Senate voted to pass the bill by a 65 to 33 vote.
All of us who have met with survivors in the wake of the tragedies have heard their message loud and clear: We must do something.  Today, in their honor, we heed their powerful cry, sending the major gun violence prevention legislation to President Biden's desk for signature," Speaker of the House Nancy Pelosi (D-Calif) spoke on the House floor, according to The Hill. 
Notable in his opposition to the bill was Rep. Thomas Massie (R-Ky), who referred to the bill as "ineffective, unconstitutional and ill-conceived without consideration for the dangerous, unintended consequences."
Back in the Senate, Mitch McConnell was busy selling out gun owners:
The American people want their constitutional rights protected and their kids to be safe in school.  They want both of those things at once, and that is just what the bill before the Senate will have accomplished," McConnell said on the Senate floor Thursday, as reported in The Hill.  "This is the sweet spot, Making America safer, especially for kids in school, without making our country one bit less free."  
McConnell did not elaborate on how the country is no less free since this legislation would allow for a gun to be confiscated from its owner via court order with no due process — a point hammered home by Sen. Ted Cruz (R- Tex.) on the Senate floor Thursday. 
"These so-called red flag laws have been implemented in multiple states, and they enable the state to take away the right to keep and bear arms from law-abiding citizens. They render you vulnerable," Cruz said, according to The Hill.
McConnell seemed to suggest to reporters before the floor vote that his support was in no small part due to political calculations.
"It's no secret that we lost ground in suburban areas," McConnell said, as reported by The Hill. "We pretty much own rural and small-town America, and I think this is a sensible solution to the problem before us, which is school safety and mental health. I hope it will be viewed favorably by voters in the suburbs we need to regain in order to hopefully be in the majority next year."
OUR TAKE
We don't harbor any illusions that most of our readers and supporters are Republican voters.  We share their anger and frustration with the GOP, supposedly the party of Second Amendment rights, stabbing them in the back. 
The main question in the postmortem of this bill is why did they do it?  Our short answer is that they did it because they could, and Republican leadership is banking on the gun owner base having a short memory of what happened. 
Four years from now, when Senators such as Joni Ernst of Iowa go before the voters, they will present to you their case that you must vote for them out of fear of what could happen if the "radical left" seized control of Congress. 
The same "radical leftists" that RINO Republicans were more than happy to either work with or support on this atrocious bill.
And despite all of our bickering over RINOs in the GOP, somehow, they keep getting sent back to D.C. and state capitols all over the country! There must be an end to the game of "My legislator is great.  It's everyone else's that's the problem." 
There must not only be "no compromise" on Second Amendment issues but there must also be "no exceptions." Republican legislators must always toe the line on gun issues, whether they have been in office for 30 days or 30 years.  If they fail to do so, they must face an animated contest in their next primary.
We think that gun owners will prove GOP leadership wrong in their bet that gun owners will forget this. If gun owners forget, there will be more compromises — and those compromises are exactly how we got here.
One other thing we've made no secret of is our affinity for the American Firearms Association. Their approach is 100% NO COMPROMISE — and their tactics are cutting edge. Join up — and tell them the staff at 2ADaily.com sent you.