WASHINGTON, D.C. – Controversial gun control bill S. 2938 cleared a significant hurdle in the Senate as senators voted 65-34 to advance the Bipartisan Safer Communities Act past a filibuster, setting up a vote either later today or Friday.
The 65 votes came from both Democrats and a group of Republicans, clearing the threshold needed to avoid a possible filibuster by just five votes.
A complete text of the bill, entitled S. 2938, is available here.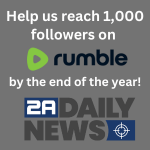 "The bill can be described simply in three adjectives — commonsense, bipartisan, lifesaving. And if Republicans work with us, we could very well finish the job in its entirety before the day is done," Senate Majority Leader Chuck Schumer (D-NY) said, as reported by The Hill.
The clearance of the filibuster comes as the latest in a whirlwind of activity in the Senate in the last 48 hours concerning the proposed gun control legislation.
In a 64 to 34 vote on Tuesday evening, the Senate initially voted to advance the bill containing hundreds of millions of dollars for states to create Red Flag laws, an enhanced review process for purchasers under the age of 21, and federal penalties for straw purchases and gun trafficking, in a procedural vote on Tuesday evening.
Fourteen Republican Senators crossed party lines to vote with their Democratic colleagues on Tuesday evening to vote for the bill.
Adding their names to the fold of Republican Senators to the initial gang of ten who compromised with Democrats in the procedural vote included:
West Virginia Senator Shelly Moore Capito,
Iowa Senator Joni Ernst,
Alaska Senator Lisa Murkowski
Indiana Senator Todd Young.
Both Murkowski and Young are up for reelection this year. Capito and Ernst are not up for reelection until 2026.
Also voting for the bill was Senate Minority Leader Mitch McConnell (R-Ky.).
"What I'm mainly concerned about is dealing with the issues that have been brought to the fore by these mass shootings, which are directly related to school safety and mental health. And I think Sen. (John) Cornyn (R-Tex.) and his team have put together a bill that addresses the problem," McConnell said, according to The Hill.
A Bipartisan Disaster for Gun Owners
Among the proposals in this bill include a $750 million so-called "funding pot," which, according to a one-pager on Democratic Lead Negotiator Sen. Chris Murphy's (D-Conn), is designed for states that create and administer laws that "help ensure deadly weapons are kept out of the hands of individuals a court has determined to be a significant danger to themselves or others."
Critics, such as Rep. Matt Gaetz (R- Fla.), have alleged that this is an attempt by the federal government to bribe the states into putting so-called red flag laws into their laws.
Gun control groups like the American Firearms Association point out that Red Flag laws allow courts to seize a gun owner's firearms even if the gun owner in question was never charged or arrested, let alone convicted of anything.
In addition, the bill calls for an extensive background check on the juvenile and mental health records of anyone wishing to purchase a gun under the age of 21. It further provides additional funding to the FBI to administer new background checks in the National Instant Criminal Background Check System.
According to the one-pager on Murphy's website, if the NICS finds a possible disqualifying record, it would have up to 10 business days to complete an investigation into whether the potential gun owner would be disqualified from ownership.
No such mental health background checks are deemed necessary if an 18 to 21-year-old decides to vote in the November elections, lending their voice to the future of their country.
Critics have called this unconstitutional.
While the bill proposes $300 million in funding for school safety measures, violence prevention efforts, and training for staff and students, it does not allow any provision for properly trained teachers and personnel to carry firearms in schools as the first line of defense against school shooters.
The bill will also create federal penalties for straw purchasing and gun trafficking, even though there was no evidence that Payton Gendron or Salvador Ramos did not use firearms purchased in that manner.
The bill's language also indicates that negotiating senators are planning on closing the infamous "boyfriend loophole."
"It would close the so-called boyfriend loophole by suspending the rights of someone to own a gun if he or she has been convicted of a misdemeanor domestic violence offense against an intimate or romantic partner," The Hill reported. "People who lose their gun rights could have them restored after a period of five years subsequent to the end of their criminal sentence."
Critics Lash Out At Proposed Bill
Almost immediately, critics lit into the bipartisan legislation.
This legislation won't even stop your garden variety gas station robbery from occurring, let alone a madman who is bent on carrying out a mass shooting," said an impassioned Chris Dorr, the Executive Director of the American Firearms Association in an online blast.  "It wasn't designed to stop criminals.  It was designed to disarm millions of American citizens, in many cases, even though they were never even charged, let alone convicted, of a crime.  The Radical Left and RINO traitors don't give a damn about the murder victims in Buffalo, NY, and Uvalde, TX.  They are simply using those deaths to move gun control!"
Referring to those who voted in favor of the procedural vote as "treacherous bastards," Dorr accused senators of being "hell-bent" on disarming the American people in a grab for power.
"This has happened in every other country on earth, and the end is always the same," Dorr explained. "Lawlessness, chaos, and then violent tyranny at the hands of the government who turns on its own people!"
Conservative talk show host Todd Starnes succinctly tweeted about the possible short-term prospects for the GOP on Tuesday evening.
"Senate Republicans may very well have lost any chance at retaking the majority tonight," Starnes wrote.
OUR TAKE
Why on earth would Republican voters show up at the polls this fall? It's not like we need Republicans in office to give us gun control, after all.
Besides everything we listed above from this 80-page monstrosity, the worst could be that this bill is designed as a placeholder bill that no doubt will be expanded upon when it becomes apparent to everyone that the Bipartisan Safer Communities Act won't stop any future mass shootings.
What is particularly insulting about this is the constant refrain that this bill will save lives and possibly stop a future Uvalde from happening. Especially on the same day that hearings in Austin, Texas, revealed that the main reason for the high body count at Robb Elementary School was law enforcement cowardice.
But their solution is to restrict your Second Amendment rights.
Do not let them do it. Get in the fight now.
Please take one minute to write to your senator and tell them they are not to compromise one iota on your Second Amendment rights. Feel free to use this form provided by the American Firearms Association below: