LOS ANGELES, CA – A homeowner and his family are safe after he shot and killed a knife-wielding man who inexplicably charged him in an incident just before 10 p.m. Friday in the 500 block of E Avenue 28 in the Lincoln Heights neighborhood.
Police told Fox 11 that, for an unknown reason, the assailant charged the homeowner and attempted to stab him in his front yard.
KTLA 5 reported that the homeowner opened fire on the man, whom police said was about 30 years old. The knife-wielding man then fled a quarter-mile before he collapsed and died.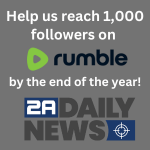 The homeowner and his family were not injured in the incident. ABC 7 Eyewitness News reported that the homeowner was not arrested.
OUR TAKE
The left often shrieks about how important it is to pass gun control – -and California and New York are the states they often point to as examples of gun-controlled paradise.
But this is yet one more case where the criminal had found another weapon of choice and the homeowner would have been left completely defenseless if not for his handgun.
We always tell people to carry every day and this incident illustrates why. Unfortunately, society has devolved to the point where a person could be attacked by a violent lunatic while they're standing in their own front yard.
Americans have a constitutional right to use firearms to defend themselves. Use it.