A homeowner in Bokoshe, Oklahoma, is alive after being assaulted in his home.
The home invader, identified as Ken Cosgrove, broke into the home according to police and assaulted the homeowner, who is 69-years-old. After attacking the homeowner, Cosgrove left the house.
However, after leaving the residence, Cosgrove decided to go back for more.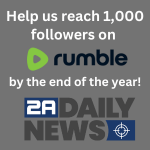 When Cosgrove came back into the residence, the homeowner took matters into his own hands and used his firearm to defend himself and killed Cosgrove.
According to Poteau Daily News, the homeowner was taken to the hospital and treated for his injuries after the incident was over. He was later released. Lt. Paul Moss with the LeFlore County Sheriff's Department told Poteau Daily News,
I was contacted by our dispatch center, who stated that we had a call that my deputies were responding to a potential burglary or home invasion (in Bokoshe) that had turned into the homeowner actually shooting his firearm at people that were in a truck as well as an individual who was trying to get into his house and actually assaulted him. At the time, it was unknown if he had actually struck anybody with the firearm. When deputies and I arrived on scene, there was in fact a gentleman slumped over at the bottom of the steps in the front yard."
No charges are expected at this time.
Perhaps the anti-gun folks can tell us how the homeowner should have called a "social justice worker" to solve the issue? Or maybe the anti-gun crowd can explain how needing any more than six rounds is not necessary for a situation like this with potentially more than one attacker?
The homeowner did what was necessary and may only be alive because of his firearm.