An Arizona man, Clinton Hurley, is finally behind bars after surviving a failed home invasion where he was shot by a gun owner who said they had to defend their family.
Before getting shot by the homeowner, Hurley was being booked into jail but escaped when his cuffs were being removed. At the time, Hurley severely beat Maricopa County Deputy Juan Ruiz.
Deputy Ruiz eventually died of his injuries in the hospital.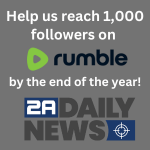 After Hurley escaped, he eventually ended up at a home in Toponah, approximately 30 miles from where he had beaten Deputy Ruiz. The homeowner who shot Hurley did not wish to be identified.
According to the homeowner, Hurley had visited their home previously and tried to scare his family with a wooden knife while the homeowner was loading his truck.
However, when Hurley returned, he had a gun and pointed it at the homeowner's dad. That's when Hurley and the homeowner began exchanging gunfire.
Hurley was critically wounded and airlifted to the hospital when he eventually survived his injuries.
Charges against Hurley for the death of Ruiz are still pending. Likewise, no charges are pending for the homeowner who shot Hurley.