Sometimes firearms aren't needed to defend one's home against criminals breaking and entering.
A Georgia man learned the hard way that it doesn't pay to break into people's homes in Georgia. Typically, stories like this end with a homeowner shooting and killing or injuring a criminal to protect themselves or their families.
However, in Newnan, Georgia, a homeowner arrived and found a man lying dead on his porch.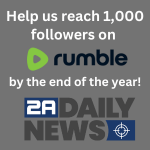 Police say the man tried to enter the home when several dogs attacked him. The man apparently made it outside of the house but died on the porch not long after the dogs attacked him.
No criminal charges are expected to be filed at this time against the homeowner, but the dogs were taken by animal control.
While guns are certainly the best choice for a homeowner to defend themselves, who says that man's best friend can't also help protect your home?