Republican establishment hacks in Ohio are doing everything they can to deceive voters into believing they are fighting for Constitutional Carry.
Ohio has had two different versions of Constitutional Carry. The Senate and House have both run versions that are slightly different.
What is supposed to happen now is that Republican legislators are supposed to figure out which version will go forward and if a change will be made to the version they choose so that both chambers can agree on the best path forward.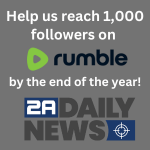 But in typical Republican fashion, leadership is trying to stall pushing Constitutional Carry through.
It is an election year, after all, and both chambers can go to their constituents and say they passed the bill, but it was the other chamber's fault for it not getting done. This is political theater 101.
So, what's happening in Ohio right now with Constitutional Carry?
According to an email from Chris Dorr, Executive Director of Ohio Gun Owners, after tremendous pressure from gun owners to hold a hearing this Thursday, but then the RINOs deliberately left off Constitutional Carry. To rub it in gun owners' faces, even more, the Government Oversight Committee scheduled the hearing with other gun bills on the docket.
Dorr told 2ADN that gun owners in Ohio are sick and tired of the games and blasted Ohio's Republican leadership saying,
Gun owners have always been so disrespected by Republican leadership in the Ohio General Assembly, which is why Ohio is always dragging up the rear when it comes to safeguarding freedom."
Not only is Dorr concerned about getting the bill to Gov. Dewine's desk, but Dorr also recognizes that getting Dewine to sign it will be no easy task.
When Idaho had to pass Constitutional Carry in 2016, it took massive amounts of pressure to get our Republican Governor at the time, Butch Otter, to sign the bill into law. It was gun owners emails and phone calls that finally go thim to sign the bill.
Ohio is not considered as "red" of a state as Idaho which means the fight to get Dewine to sign the bill is going to be even tougher.
However, Dewine can't have that opportunity if Ohio's leadership doesn't get off their butts and do the right thing. Dorr expounded on that sentiment telling 2ADN,
Gun owners have pushed Constitutional Carry this far, with only one last vote remaining. The Ohio General Assembly owes it to voters to finish this fight and put it on DeWine's desk."
Gun owners in Ohio should make sure they are following the work of Ohio Gun Owners on their Facebook Page, or on their website, and ensure they do not let up on the pressure inside the capitol.
It doesn't matter if your legislator is a Republican, because many of them are often the reason these bills don't get done.