ALBANY, NY- Democratic New York Governor Kathy Hochul signed a sweeping gun-control bill on Friday evening that would require prospective handgun license holders to give a list of their social media accounts to officials to verify their "good moral character," according to the Washington Examiner.
According to the legislation, which does not go into effect until September 1st, potential handgun license holders would be required to turn in their active and inactive social media accounts for the past three years to officials to contact and determine "good moral character," the Washington Examiner reported, adding that a person must also sit down for an in-person interview with a licensing officer and agree to store their firearms securely.
Buffalo television station WIVB reported that the bill would also require prospective license holders to provide four character references in addition to the contact information for their spouse, domestic partner, or any other adult living in their household, 16 hours of firearms safety training, two hours of training on a range, and submit to periodic background checks.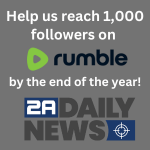 Fresh off of her victory in the New York State Democratic Party Primary on Tuesday, Hochul called a special session of the state legislature in the wake of the Supreme Court decision in the New York State Rifle and Pistol Association vs. Bruen, which struck down a New York state law that required concealed carry applicants show special need for the permit beyond self-defense.
Another part of the revised gun laws signed into law by Hochul was a restriction on gun owners entering businesses with the firearms they are licensed to carry unless the business specifically posts a sign stating that they were welcome, according to WIVB, adding that any gun owner who brings one into a place without such a sign could face a felony charge.
In addition, gun owners will not be allowed to bring their firearms into "sensitive places," which WIVB reported included tourist destinations such as New York City's Times Square.
"That list also includes schools, universities, government buildings, places where people have gathered for public protests, health care facilities, places of worship, libraries, public playgrounds and parks, day care centers, summer camps, addiction and mental health centers, shelters, public transit, bars, theaters, stadiums, museums, polling places and casinos," WIVB reported.
Court Challenge In 3…2….1…
As to be expected, gun rights groups and Republicans expressed outrage and indignation, with New York State Republican Chairman Nick Langworthy telling WIVB that members of his party were planning on filing a lawsuit as soon as next week.
New York State Firearms Association's Executive Director, Aaron Dorr, told the Associated Press that the proposed legislation was "the kind of bill that the Gestapo would be proud of" and that it would never survive a court challenge.
Republican New York State Senator and Deputy Minority Leader Andrew Lanza of Staten Island expressed indignation.
"Now we're going to let the pizzeria owner decide whether or not I can express my constitutional right," Lanza said, according to the AP. "This is a disgrace. See you in the courts."
OUR TAKE:
How big is the manual that gun owners in New York will have to carry around to understand when and where they can defend their lives? Of course criminals won't have to walk through all the red tape — but they'll still have guns!
And how ludicrous to violate every single New Yorkers' right to free speech by monitoring their online activity before allowing them to exercise their God-given rights?

Do we check the Facebook posts of citizens before they're entitled to any other rights protected in the Constitution?

What a tyrannical nightmare for the millions of law-abiding New Yorkers who live in the rural, agricultural parts of the state.
Democrats on the state and federal levels have used Buffalo and Uvalde's mass shootings to go on the gun control issue offensive. At issue for them is not public safety but a way to disarm their political opponents or whomever they deem unfit to bestow gun privileges to, which is most everyone in the country, it appears.
We hope these lawsuits come hard and fast from Second Amendment defenders so that law-abiding New Yorkers can exercise their constitutional rights free from tyrants like Hochul.