CHICAGO, IL – A five-month-old girl was shot to death while seated inside a vehicle in Chicago's South Shore neighborhood Friday evening as yet another weekend of violence rocked the Windy City under the leadership of the notably anti-gun Democrat Mayor Lori Lightfoot.
Fox 32 reported that the infant, identified as Cecilia Thomas by the Cook County Medical Examiner's Office, was fatally shot in the head just after 6 p.m. Friday in the 7700 block of S. South Shore Drive. According to ABC 7 Chicago, Thomas was traveling in the car with her father, who pulled over near 71st Street and Crandon Avenue after the infant began crying.
Another vehicle pulled up, and one of the occupants began firing, striking Thomas in the head, according to police. She was transferred to Comer Children's Hospital, where she died from her injuries.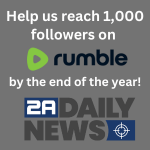 "I've never in my 61 years of life seen anything like this," said a nurse who was identified by ABC 7 Chicago as Jackie, who told the news organization that she had lost two of her children to gunfire and a third being paralyzed after being shot at a party. "You never know what it's like to have a broken heart until you go through it."
Police have not revealed whom they are looking for at the time of this writing, but community activist and crisis responder Andrew Holmes told Fox 32 that the suspect's vehicle is allegedly a red Chrysler and the shooter was allegedly a female. Holmes added that he hoped cameras or eyewitnesses would capture the woman's appearance.
You just took this baby's life," Holmes said to Fox 32. "This baby was an infant, this baby didn't do nothing to you. We understand it may have been two cars shooting back and forth at each other. We're not going to stand for this in this city. We need this city to do what we got to do to put eyes on this young lady, on this driver until both of them have been arrested because this is disgusting, this is a disgrace, this is as low as you can get. And that bullet went through the back of that car and hit this baby in the head."
Mayor Lightfoot's Twitter page contains no comment on the murder of Cecilia Thomas amid a flurry of tweets decrying the Supreme Court's decision on the New York State Rifle & Pistol Association Inc. Vs. Bruen, lambasting the court's decision to overturn Roe vs. Wade and her marching in the Chicago Pride Parade.
Unbelievably, Lightfoot announced her intention to seek reelection on June 7th, joining a crowded field of at least six candidates for the position. One of her opponents, community activist Ja'Mal Green offered up a $5,000 reward for information leading to the arrest and conviction of the shooters involved in Cecilia Thomas' death, according to Fox 32.
As of early Sunday morning, ABC 7 Chicago reported that 23 people were shot and five were killed, including Thomas, in the latest rash of shootings that rock the Windy City almost every weekend.
OUR TAKE:
We would ask if Mayor Lightfoot has any shame, but the fact that she dares to run for reelection despite, well, everything, answers that question.
Gun owners know that the anti-gun left and their traitorous RINO co-conspirators are working constantly to pass the exact same gun control that Chicago has nationwide.
This is our fear about legislation like the Bipartisan Safer Communities Act, which was signed into law by President Biden early on Saturday morning. As we reported to you throughout last week, the President and his fellow Democrats have sent numerous hints that S. 2938 was a "beginning" that "paves the way" for "more progress" on the issue at a later time.
There can be no doubt that their designs include Chicago-style gun-control writ large. Unless law-abiding gun owners politically clean house and vote any RINO's out of office and join gun rights groups that will not compromise on their Second Amendment rights, they could get their way.
Would you feel safe in Chicago, with its backward gun-control laws that target law-abiding citizens yet don't prevent depraved criminals such as the person(s) who killed Cecilia Thomas?