SACRAMENTO, CA – California Attorney General Rob Bonta issued a legal alert to all district attorneys, police chiefs, sheriffs, county councils, and city attorneys, ordering them to remove the "good cause" standard from all applications to obtain a concealed carry permit, on Friday.
Yet based upon the language of the legal alert, Bonta has instructed law enforcement, city officials, and city attorneys to use California's "good moral character" standard in an apparent attempt to possibly deny concealed carry applicants.
Bonta, a Democrat, issued his alert the day after the Supreme Court issued its landmark 6-3 in the case of New York State Rifle & Pistol Association vs. Bruen. The decision struck down a New York state law requiring anyone requesting permits to carry firearms outside of their home to show "special need" beyond self-defense.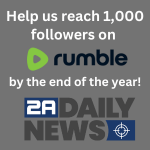 Writing for the majority in the 6-3 decision, Justice Clarence Thomas specifically cited California as one of six states, aside from New York, with a "proper clause" statute.
In his legal alert, Bonta declared that the Supreme Court decision rendered California's "good cause" standard to secure a permit unconstitutional, and thus proof of "good cause" will no longer be required.
However, Bonta took great pains to emphasize that officials could use the "good moral character" standard when considering granting applications for concealed carry.
"Permitting agencies may no longer require a demonstration of "good cause" in order to obtain a concealed carry permit," Bonta's office wrote in the legal alert. "However, local officials can and should continue to apply and enforce all other aspects of California law with respect to issuing public-carry licenses. In particular, the requirement that a public-carry license applicant provide proof of 'good moral character' remains constitutional."
Bonta wrote in his statement that the Bruen decision didn't "eliminate the duty of authority of local officials to protect the communities that they know best by ensuring that licenses are only issued to individuals who- by virtue of their character and temperament- can be trusted to abide by the law and otherwise ensure the safety of themselves or others."
The Attorney General's office wrote that those investigating whether or not the potential applicant has "good moral character" includes possibly interviewing applicants to use "publicly-available information, including social media accounts, in assessing the applicant's character."
"Finally, we note that it remains reasonable—and constitutional—to ask applicants why they are interested in carrying their firearms in public,' the alert read. "Although applicants do not need to demonstrate good cause for the issuance of a license, an applicant's reasons for seeking a license may alert authorities to a need for psychological testing, be considered as part of the "good moral character" requirement, or provide information relevant to other statutory requirements.
OUR TAKE:
By all appearances, this is California's Plan B in their pursuit of a gun-free society- or at least one that disarms the perceived enemies of the Golden State's political apparatus.
Did you advertise your support for former-President Donald Trump on Facebook? Did you think that Rep. Marjorie Taylor Greene (R- Ga.) was right on in that one tweet, and you decided to share it? Were you a little too vocal, along with Fox News Host Jesse Watters, in demanding to see the drunk driving mug shot of Speaker of the House Nancy Pelosi's husband Paul during a get-together with your Democratic friends?
Would your permit be denied if you had the misfortune of applying for a concealed carry permit from a Bonta henchman?
We certainly hope such would not be the case. But it's the Democratic stranglehold of California, so we have our suspicions.
Gun rights groups need to keep their eyes on this situation.