WASHINGTON, D.C. – In an interview with Fox News Sunday, Sen. Mike Lee (R- Utah) told host Shannon Bream that he does not believe that senators have a rock solid gun control deal, despite the announcement of an in-principal agreement last week.
"The issue that we have here is we don't have a bill," Lee told Bream. "That's why I was surprised when last week, about a week ago, when you have, this gang of 20 emerged saying we have a deal. We started expecting to see a bill."
But as of Sunday, no bill has been forthcoming. Lee, whose name was not among the ten GOP senators who signed onto the in-principal agreement, did not tell Bream how he intended to vote on any potential legislation since no text is available yet.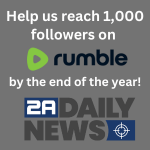 "I keep asking to see text, and it became apparent they didn't have a bill. In fact, they don't have a deal at all," Lee said. "What they had was agreement on a series of very broad promises."
Lee's words are consistent with events of the previous week in Washington concerning gun control legislation. After announcing an in-principal bipartisan agreement supported by 20 senators, including ten from the GOP, negotiations ground to a haul throughout the course of the week, climaxing in Sen. John Cornyn (R-Tex.), the lead Republican negotiator, departing Sen. Chris Murphy (D- Conn.) in frustration on Thursday.
At issue in the stalling of negotiations were federal funding for states who do not have red flag laws on their books and how to define the word "boyfriend" to tackle the so-called "boyfriend loophole."
Besides Lee's scrutiny, more vociferous denouncements of the in-principal agreement have been coming from the pro-Second Amendment wing of the Republican Party. In an appearance on Breitbart News Saturday, Rep. Matt Gaetz (R-Fla.) suggested that the Senate plan could involve the federal government using federal money to "bribe the states to deprive citizens of their Second Amendment rights."
In Florida, we have a red flag law, which is not good. We should not have one. I wish we didn't, " Gaetz said. "In our state, we had 8,000 utilizations of the red flag law. Under the Senate plan, maybe we would get more money if we used our red flag law more often.
As for the other side of the aisle, Murphy, who serves as the lead Democratic negotiator, tried to put a brave face on ongoing negotiations for constituents, despite failing to meet the goal of getting in something in writing last week in hopes of allowing Senate Majority Leader Chuck Schumer (D-NY) to schedule a vote for this coming week.
We've continued to make progress over the last two days and have finalized agreement on the majority of our framework's provisions," Murphy said in a release posted to his website. Our staff is currently drafting legislative text on those areas of agreement as we work through the final sticking points. I believe we can bring this to a vote next week."
Lee also said during the interview that he urged his colleagues to not pass legislation piloted on emotion alone.
"But, Shannon, the important thing here is you have to be careful whenever something like this happens, that we not legislate under the heat of the moment — heat of the moment, under great emotion without looking at that text and figuring out what we're doing. We need to be careful that we not punish law-abiding Americans for the wrongs carried out by the criminally minded and the insane."
OUR TAKE:
We would normally agree with Senator Lee that the commonsense move would be to wait until he sees actual text to decide the merits of the legislation.
But in this case, even just the things legislators have said the bill will contain are so bad that we don't want to see it make it to paper.
While we are the opposite of 'Green New Deal' believers, we can't help but feel badly for the waste of a tree if it was cut down and made into paper just to hold the text of this nasty gun control bill!
And as a reminder: Lee's statements were made on Sunday, and things change quick on Capitol Hill, so be sure you stay engaged in this fight until it's reached a final conclusion.
Take one minute to contact your Senator and tell them to stop this proposed legislation dead in its tracks before it even gets to paper. You can use the form provided by the American Firearms Association below: