WASHINGTON, D.C. – Senate Minority Leader Mitch McConnell (R-Ky.) has announced that he intends to vote to pass Senate gun control legislation so long as the written bill reflects the current language being discussed in the bipartisan gun control bill, according to NBC News.
"I'm comfortable with the framework and if the legislation ends up reflecting what the framework indicates, I'll be supportive," McConnell said at a press conference with reporters on Tuesday.
In the wake of the high-profile shootings in Buffalo and Uvalde, Democrats have rekindled demands for legislation that would further limit the Second Amendment rights of Americans.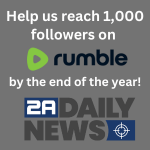 For his part, McConnell dispatched Sen. John Cornyn (R- Tex.) as the lead Republican negotiator in a small group of senators to come to an agreement on gun control legislation.
On Sunday, several senators announced that they had an in-principal agreement, which President Joe Biden said he would sign, as we reported to you yesterday.
The in-principal deal, outlined on the website of lead Democratic negotiator Sen. Chris Murphy of Connecticut, includes an "enhanced review process" for would-be gun owners under the age of 21, increased federal spending for school-based mental health and supportive services, and increased federal spending for "school safety resources."
President Biden praised McConnell and Cornyn as "rational Republicans" who understood that "we can't continue like this" in his remarks to the press on May 30th regarding a possible gun control compromise.
McConnell joins fellow GOP senators Cornyn, Thom Tillis of North Carolina, Roy Blunt of Missouri, Richard Burr of North Carolina, Bill Cassidy of Louisiana, Susan Collins of Maine, Lindsey Graham of South Carolina, Rob Portman of Ohio, Mitt Romney of Utah, and Pat Toomey of Pennsylvania in support of the in-principal agreement.
As we reported to you yesterday, four of the 10 GOP Senators who brokered the gun control deal are retiring, and five are not up for reelection until 2026. As for McConnell, he does not have to face voters until the 2026 midterms.
"Support for the provisions of the framework is off the charts, overwhelming," McConnell told reporters, according to NBC News. "I think if this framework becomes the actual piece of legislation, it's a step forward, a step forward on a bipartisan basis, and further demonstrates to the American people that we can come together, which we have done from time to time on things like infrastructure and postal reform, to make progress for the county.
OUR TAKE
Gun owners should be furious at Senate Republicans for stabbing them in the back. They should particularly be enraged when they consider how totally unnecessary it was.
Just a few months out from the midterms, the Democratic Party appears to be headed for a severe political reckoning in the upcoming November midterms.
This could even reach the catastrophic levels of the previous midterm losses suffered by Republicans in the fall out from the Watergate scandal in 1974 or the beating taken by Democrats in 1994 — the year of Newt Gingrich's Contract with America.
After Democrats used the Buffalo and Uvalde massacres as excuses to call for more gun control laws, McConnell could have said 'Absolutely not!' since there was no need to bargain with a political party that is about to be taken behind the woodshed by the American voter.
But McConnell agreed to the negotiations, and then publicly stated that he will vote to pass the wretched bill! (It's worth noting that like the slimy politician that he is, he left room in his rhetoric to change his mind.
And once McConnell jumped on board, he gave political cover to other Senate Republicans to do the same!
Now, more than ever, gun owners must exert pressure on their legislators to hold the line on this bill or face the annihilation of the Second Amendment.

Contact your legislators today, and feel free to use this form provided to us by the American Firearms Association below. It takes just one minute, and you don't have to know your legislator's names and addresses, etc.