SACRAMENTO, CA – The California Department of Justice recently exposed the personal information of every citizen in the state that has a concealed carry permit on Monday, reported the Los Angeles Times.
The alleged snafu occurred as a part of the launching of the California DOJ's 2022 Firearms Dashboard Portal, which, in a Monday press release, was described by the Attorney General Rob Bonta's office as being an information-sharing dashboard for such things as the issuance of concealed carry permits, and gun violence restraining orders.
"Based on the Department's current investigation, the incident exposed the personal information of individuals who were granted or denied a concealed and carry weapons (CCW) permit between 2011-2021," according to a press release from the California DOJ. "Information exposed included names, date of birth, gender, race, driver's license number, addresses, and criminal history."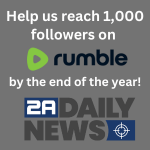 The press release also said that data concerning assault weapon registry, handguns certified for sale, dealer record of sale, firearm safety certificates, and gun violence restraining orders from the dashboard were also impacted.
Social Security numbers or other financial information was not disclosed in the alleged data breach.
The Los Angeles Times reported that officials from the California DOJ took down the links after learning of the breach but said it was possible that the information exposed has already been posted elsewhere online.
This unauthorized release of personal information is unacceptable and falls far short of my expectations for this department," said Attorney General Bonta in the press release. "I immediately launched an investigation into how this occurred at the California Department of Justice and will take strong corrective measures where necessary. The California Department of Justice is entrusted to protect Californians and their data. We acknowledge the stress this may cause those individuals whose information was exposed. I am deeply disturbed and angered."
Many Second Amendment activists were not buying it, and some called on Bonta to resign.
"We believe that AG Rob Bonta is either massively incompetent, incredibly negligent, or willing to criminally leak information that he does not have the authority to leak," Sam Paredes, the president of the Gun Owners of California told Fox News on Wednesday. "This is so egregious that he should resign. He has placed tens of thousands of abiding citizens in California in harms way. That is not excusable with an 'I'm sorry.'"
Gun owner groups have good reasons for viewing this event with a jaundiced eye. In 2016, a data breach occurred releasing the private information of roughly 4,000 California gun instructors.
The Monday press release from Bonta's office emphasized that the California Department of Justice "seeks to balance its duties to provide gun violence and firearms data to support research efforts while protecting the personal identifying information in the data the Department collects and maintains," yet gave no explanation as to how this would be done.
Given the data breach, the answer to that question appears to us to be 'Not very well.'
OUR TAKE
Yesterday, we reported to you that Bonta's office released a legal alert last week in which he all but encouraged California officials who may be involved in granting concealed carry permits to use the "good moral character " standard instead of "good cause" standard.
The switch was ordered due to "good cause" standard states such as California that were using in the application process for concealed carry permits were declared unconstitutional last week as a part of the Supreme Court's ruling in the New York State Rifle & Pistol Association vs. Bruen case.
The leftists that make up the California political apparatus take great pride in their state's stringent gun control laws. After all, they did not wind up ranked number one on anti-gun group Giffords Law Center's annual Gun Law Scorecard by accident.
While experience tells us we should never outright dismiss pure government incompetence as a reason for why things happen, we too cannot help but wonder if there was something more malevolent at work here in this invasion of the privacy of gun owners by the state.
Whatever the reason it occurred, Bonta, who has shown that he is no friend of gun owners, needs to resign immediately and a full investigation needs to be launched to get to the bottom of how this happened. More importantly, steps must be taken to prevent something like this massive breach from happening again.
Note we wrote what should happen. We know this is California so we aren't going to hold our breath in expectation that this will actually happen.