If Chicago citizens were hoping for a better year in 2022 as far as violence goes, they were sorely let down.
We are now three weekends into 2022, and Chicago has been just as deadly as ever. At least ten people have been killed, and 57 others were injured.
The New Year's weekend was the deadliest, with six killed and 25 others wounded, including two teenagers. Teens are often shot late at night while walking down the sidewalk.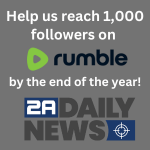 Sadly, one of the individuals killed was a 12-year-old boy who was shot in his home while he was in bed.
Two of the other victims were a 17-year-old girl shot at a hotel, and a 16-year-old boy shot while walking on the sidewalk. Both are expected to survive.
The second weekend of the year was the least deadly, with seven people being shot, none of them fatally. However, one of the people shot was a 17-year-old driving at approximately 2 a.m. when he was hit in the neck.
Then, 29 people were shot over this weekend, four of them fatally.
According to ABC 7, almost none of the people responsible for the shootings has been taken into custody. But, of course, it's no surprise since many of the shootings were drive-bys which are all too familiar in Chicago.
Chicago is not off to a good start for 2022, and we don't see it getting any better.
Citizens should do all they can to flee the city. But, if you can't get out, then perhaps you should exercise your right to keep and bear arms because the town isn't going to do anything to help you.