Congresswoman Marjorie Taylor Greene (R-GA) has come out with some pretty great ads using firearms.
One of Greene's most prominent taglines is to "Save America. Stop Socialism." She ran several ads targeting the liberal's policies during her campaign, including policies that target the 2nd Amendment.
Greene recently released a new video targeting the Democrat's $3.5 trillion budget, and in the video, Greene is seen shooting a .50 Cal and blowing up a car with the word "Socialism" written on the side of it.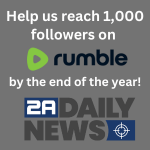 You can see the video below:
Greene is raising funds from the video and doing a .50 cal giveaway at GreeneGun.com which did not make the gun control crowd happy.
Once Greene's video went public, gun control advocates became triggered and took to Twitter to voice their displeasure. David Hogg, the co-founder of "March for Our Lives" and former Parkland, FL student seemed to be the most upset by the video. Hogg has been on a rampage against gun owners for years now.
Hogg went off on Greene on Twitter in a series of tweets. Here was the first one Hogg posted: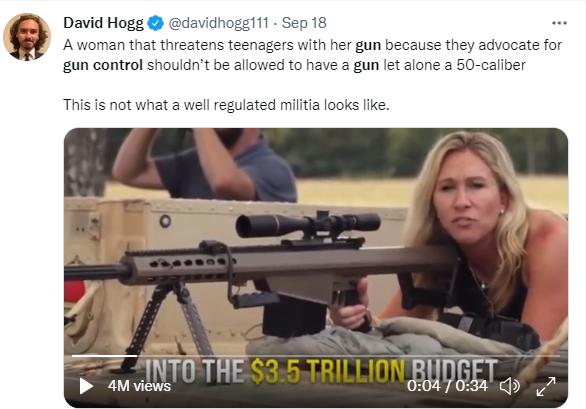 Next, Hogg took issue with how Green was firing the weapon.
Who better to tell gun owners how to fire a firearm than a gun control activist who knows nothing about weapons than Hogg, right?
Here is Hogg's second tweet:

Then, not done going after Geene, Hogg tries to claim that Marjorie was a part of the January 6th incident. And of course, Hogg claims that he had a military "friend" tell him that Greene fired the weapon incorrectly.
Hogg posted this on Twitter soon after his second tweet:

Finally, Hogg even shared Congresswoman Ilhan Omar's tweet attacking Greene's video. Here is what Omar said on Twitter:
This is sick and dangerous.

It should be disturbing to all that Republicans can't engage in political discourse without constantly threatening violence in their campaign ads."
2nd Amendment Daily News reached out to Greene to see if she had a comment regarding Hogg's tweets. Unfortunately, as of this writing, Greene has not yet responded to our request for comment.
What do you think of Greene's video? What do you think of Hogg's response?
Let us know in the comments below!