LOS ANGELES- A startled homeowner fired on three burglars at about 1:30 a.m. Saturday morning in the 3600 block of Beverly Ridge Drive, in the upscale Sherman Oaks neighborhood, reported ABC 7 Eyewitness News. 
The homeowner awoke to sounds that he thought were being made by a raccoon, according to KTLA. After finding a man out on his balcony, the homeowner grabbed his gun and fired two to three shots at the suspect, police told KTLA.
The homeowner also found another suspect in the hallway near his bedroom and fired several shots.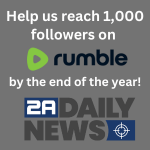 Despite the Los Angeles Police Department forming a perimeter, they could not find the intruders. KTLA reported that it was unclear if any of the suspects were hit. The homeowner was unharmed.
OUR TAKE
Incidents like this, which occurred in an upscale neighborhood as opposed to a crime-infested one, are why we always encourage people to take advantage of the rights the Second Amendment has given them.
Some people may assume that just because they live in a quiet neighborhood, they will never confront any home invaders as this Sherman Oaks homeowner did. Yet even a cursory glance at the news reveals more and more that this is not the case.
Dangerous criminals can strike anytime, threatening you, your loved ones, and your property. This homeowner was ready to answer the threat. Will you be?