HOUSTON, TX – The Houston Independent School District Board of Trustees passed a motion that earmarked $2 million for purchasing rifles and shields for district police officers in the wake of the Uvalde school shootings earlier this month.
ABC 13 Eyewitness News reported that the funding would go towards "the purchase of rifles, ballistic shields, bulletproof vests, and ammunition for the district's police department." HISD Police Chief Pete Lopez told trustees that the equipment purchased is mainly meant for active shooter incidents. Lopez also said that strict policies would be enacted so that the firearms and equipment would only be brought out during that time.
Superintendent Millard House II said he believed the school district was as ready as it could be if faced with a school shooting situation.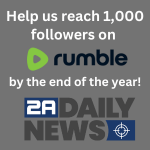 "I mentioned last week we're not increasing the number of guns that we have for a particular reason," House said, as reported by ABC 13 Eyewitness News. "The bigger issue here is assuring that (officers) have all of the tools possible so that they can be as safe as possible and provide the kind of safety that we want them to provide for our campuses."
In addition to purchasing equipment, the HISD also altered perimeter fences on its campuses and strengthened its security camera system, ABC 13 Eyewitness News reported.
OUR TAKE
We are happy to see school districts all over the country get serious — and proactive! — about protecting students and staff by purchasing firearms. It certainly is a better policy than believing that silly things like "gun-free zone" signs will stop violent criminals who wish to hurt our children.
Still, we believe that even more can be done.
Whether we like it or not, the first line of defense against a school shooter who has successfully entered a school is the teacher in the classroom they walked into. This is why it is essential that teachers who wish to carry in their classrooms be allowed to do so and given proper training to that end.
How eager would a potential school shooter be to carry out their dastardly act if they knew they were walking into a place where those inside could shoot back?