WASHINGTON- In a brief meeting with reporters on the South Lawn of the White House on Monday, President Joe Biden claimed, among other things, that the Constitution and the Second Amendment were never "absolute" and claimed that a trauma doctor told him that a 9mm "blows the lung out of the body."
The President had just returned to the nation's capital from Delaware to attend and participate in Memorial Day ceremonies. Far from taking the day off from political battle in solemn remembrance of those who gave their lives for American freedom, Biden continued to push his administration's anti-gun rhetoric.
His remarks came while the the Democratic Party is moving multiple pieces of gun control legislation before the midterms in November.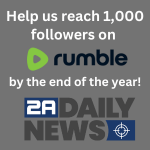 Referring to his time in the Senate when hearings were underway regarding gun laws, Biden claimed that he spoke with doctors at New York's largest trauma hospital.
And I sat with a trauma doctor, and I asked him — I said, 'What's the difference? Why are so many people…' — and not that many more people were being shot," Biden claimed, according to a White House Transcript. This is now 20 years ago, or 25 years. I said, 'Why are they dying?' And they showed me x-rays. He said, 'A .22-caliber bullet will lodge in the lung, and we can probably get it out, may be able to get it and save the life. A 9mm bullet blows the lung out of the body.'"
Biden's bizarre claim earned him criticism from many on social media, including author and Army Special Forces veteran Jim Hanson, who dismissed the statement as "idiotic rubbish" in a tweet.
.@JoeBiden w/ idiotic gibberish on bullets

"a 9mm bullet blows the lung out of the body"

They invent these horror stories
To help sell their gun grabs#MolonLabe Joe pic.twitter.com/7Lm99Yzpto

— Jim Hanson (@JimHansonDC) May 30, 2022
"If a 9mm really did that, I might carry one," Hanson wrote in another tweet. "But they don't, so I'll stick w/my .357 mag."
Appearing to tie a 9mm to "high-caliber weapons," the President claimed that there was no rational basis for thinking of those guns as being for self-protection or hunting.
I mean, I just — and remember, the Constitution, the Second Amendment was never absolute. You couldn't buy a cannon when the Second Amendment was passed.  You couldn't go out and purchase a lot of weapons."
Biden had claimed that Americans could not buy cannons when the Second Amendment was passed on numerous occasions before. 
In one of the rare instances when the left-wing media honestly fact-checked a leftist politician, both the Washington Post (in 2021) and Politifact (in 2020) declared Biden's statements false.
Why Now?
The Administration heads into the summer months in highly rough condition, weathering numerous crises. According to Gallup, with just over six months to go until the consequential midterm, Biden's job approval rating ranks lower than Donald J. Trump's approval rating at the same point of their presidencies. Trump posted a 42 percent approval rating on Day 487 of his presidency, while Biden is polling at 41 percent.
"He's now lower than Trump, and he's really twisted about it," according to a source close to the White House who spoke with NBC News, as reported by Business Insider.
In recent weeks, after the mass shootings in Buffalo and Uvalde, the Biden Administration and Democratic Party have proceeded full speed ahead in advancing the nomination of anti-gun Obama cohort Steve Dettelbach for the head of the Bureau of Alcohol, Tobacco, Firearms, and Explosives as well as the reintroduced Federal Firearms Licensing Act, which has been referred to the Senate Judiciary Committee.
Yet, Biden told reporters that the Constitution limited him on issuing executive orders about the issue of guns.
I can't dictate this stuff.  I can do the things that I've done," the President said.  And any executive action I can take, I'll continue to take.  But I can't outlaw a weapon.  I can't, you know, change the background checks.  I can't do that."
OUR TAKE:
Biden did not name the trauma doctor he allegedly spoke to those many years ago.  In the muddled and confused brain of the President, one wonders if he thinks Corn Pop changed his ways, went to medical school, and made good?
The past few weeks have been cause for concern for gun owners.  Faced with a majority party that increasingly faces the likelihood of political annihilation in the November mid-terms, the leftists in power resemble a cornered rat — erratic and very dangerous.
With about as much knowledge of firearms as their leader, President Biden, they nevertheless wish to ride out the closing months of their majority rule by hamstringing responsible gun owners — and depriving us of our constitutional rights as much as they can.
What should cause even more concern is that more and more Republicans seem to want to cooperate with them, including Senate Republican Leader Mitch McConnell, whom Biden referred to as a "rational Republican" in his Memorial Day remarks to reporters.
Now, more than ever, is the time to get involved.  You can start by joining the American Firearms Association's efforts to combat these gun grabs by sending an email to your legislators via the form they've provided below.