POLK COUNTY, Fla. – A Florida sheriff fired off a preemptive verbal warning against anyone in his country to dare to replicate last Tuesday's shooting at Robb Elementary School in Uvalde, Texas, that killed 19 children and two teachers last week.
According to Spectrum News, Polk County Sheriff Grady Judd told reporters that he was both "heartbroken" and "mortified" at the news of Uvalde during a press conference last week.
As a warning to any copycats wishing to duplicate the carnage of Uvalde, Judd showed a picture of a deputy holding a gun.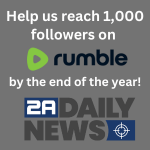 This is the last thing you'll see before we put a bullet through your head if you're trying to hurt our children," Judd told reporters. "We are going to shoot you graveyard dead if you come onto a campus with a gun, threatening our children or shooting at us."
The investigation into the mass shooting at the elementary school has shifted in recent days to the response of law enforcement who were called onto the scene at the elementary school.
The actions of law enforcement have come under increasing scrutiny in recent days, with an growing number of critics alleging that their hesitancy in taking out the shooter, 18-year-old Salvador Ramos, led to more loss of life.
Democrat Texas State Senator Roland Gutierrez is among such critics. Gutierrez, who represents Uvalde in the 19th District, said in an interview with Dana Bash on CNN's State of the Union on Sunday that the law enforcement response was a "sham."
I'm disgusted by all of it," Gutierrez said. "I understand the human condition, the notion that this other guy might have superior firepower. But, at the end of the day, the protocols were breached. The active shooter protocols dictate that you go in."
The U.S. Department of Justice announced that it is launching a "Critical Incident Review" of law enforcement response at Robb Elementary School. This move comes in response to a request by Uvalde Mayor Don McLaughlin.
"The goal of the review is to provide an independent account of law enforcement actions and responses that day, and to identify lessons learned and best practices to help first responders prepare for and respond to active shooter events," Justice Department Spokesman Anthony Coley said in a press release.
Judd called the hour that Ramos was in the building "unacceptable." He also said he believed that too many school districts and law enforcement agencies aren't equipped to handle school shooting situations.
The sheriff emphasized that this would not be the case in his county, located in central Florida and encompasses Lakeland and Winter Haven.
"If you come to a school in this county armed, we're going to do our best through either our guardians, our school resource officers, or our school resource deputy sheriffs to eliminate the threat outside of the school before they ever get to the children. We're trained to do that," Judd said, according to Spectrum News.
OUR TAKE:
While we appreciate the fact that there are still law enforcement officers like Sheriff Judd who still take their pledge to serve and protect seriously, we would be remiss if we did not point out that, thanks to what can only be described as the cowardice of the majority of law enforcement officers on that fateful day, Uvalde serves as a perhaps one of the most significant examples of all as to why armed citizenry is necessary for our country.
Revelation after revelation coming out of Ulvade ought to drive Americans back to the fundamental principles behind the Second Amendment: you have a right to self-defense, and it is your responsibility to use it.
Furthermore, far from restricting access to guns as anti-American Democrats and an increasing number of RINO's wish to do, another proper lesson to be gleaned from this is to allow teachers to carry firearms in their classes.
Otherwise, as we learned last week, teachers and school officials will be playing roulette when they call 911 in a school shooting situation. They can only hope that the officers responding will be those trained by leaders like Sheriff Judd and not those like we saw in Uvalde.