A 14-year-old boy in Philadelphia had to defend his mother, who was being strangled in the family's pizza shop.
Philadelphia is trying to give Chicago a run for its money as the most dangerous city in America. Chicago has long been known as the murder capitol of the United States.
This year, the city of "brother love" has already had over 520 murders, an increase of 46% over 2019.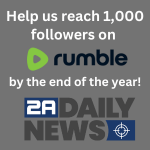 On December 10, a man came into Bold Pizza and tried to steal cash from the shop's register. That's when the mother of the 14-year-old boy tried to stop the would-be robber.
The man then began attacking the woman and began strangling her.
While the man was strangling the boy's mother, he grabbed his dad's firearm from under the counter and fired one shot into the man's face.
The alleged suspect then fled the pizza shop with blood dripping along the ground. When police arrived, they followed the blood trail and eventually took the suspect to the hospital in critical condition.
The man who was shot was allegedly part of a three-person group robbing several stores in the area. Police say that they are still looking for the other two suspects.
As of this writing, the condition or name of the suspect has not been released.