BUFFALO, NY – Orchard Park Republican Congressman Chris Jacobs announced that he would not be seeking reelection after facing backlash from GOP leadership and constituents resulting from his support of gun control legislation in the wake of the Buffalo shooting.
This obviously arises out of last Friday, my remarks, statements on being receptive to gun controls," Jacobs said in an interview with the Buffalo News, referring to his announcement. "And since that time, every Republican elected (official) that had endorsed me withdrew their endorsement. Party officials that supported me withdrew, most of them and those that were going to said they would not. And so, obviously, this was not well received by the Republican base.
As we reported earlier this week, Jacobs had been endorsed by the NRA as recently as his 2020 campaign for the House in New York's conservative 27th District.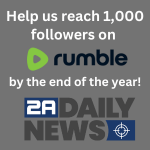 But, citing the "profound impact" the mass shootings allegedly had on him, Jacobs voiced his support for banning assault weapons and raising the age for legal gun purchase after the mass shootings at Buffalo and Uvalde.
The announcement marked a dramatic fall from grace for Jacobs, who won the 27th District seat with 59.1 percent of the vote over Democrat Nate McMurray in the 2020 General Election. Thanks to redistricting, Jacobs sought to represent the new 23rd District, including several counties in western New York and some suburbs of Buffalo.
Carl Paladino, a former New York Gubernatorial candidate and an associate of former President Donald J. Trump, confirmed with The Hill that he was jumping into the race on Friday evening. The real estate developer is backed by House Republican Chairwoman Elise Stefanik (R-NY).
Stefanik tweeted her support for Paladino on Friday afternoon, in a move that The Hill seemed to claim was the final straw for Jacobs' reelection bid.
However, the Buffalo News reported that Paladino might have some challenges ahead of August's primaries despite his endorsement from Stefanik and association with Trump.
"Paladino's campaign could face some challenges, though," The Buffalo News reported. "Several sources said Paladino may have trouble garnering the necessary 1,612 signatures to qualify for the primary by next Friday's deadline. And some Republican voters may shy away from Paladino's long history of controversial statements and actions."
Also considering a possible run for the 23rd District seat is state Republican Committee Chairman Nick Langworthy, whom the Buffalo News reported was circulating petitions for signatures to possibly enter the race. Businessman Mark Cenedella, who was already challenging Jacobs, told the Buffalo News he planned to continue his campaign.
Jacobs, who is currently working across the aisle with Democrats on a bill that would bar civilians from buying body armor, told the Buffalo News that he intended to vote for Democratic legislation that would ban high capacity magazines and raise the minimum age for purchasing an assault weapon to 21-years-old.
The New York Primaries are slated for Tuesday, August 23rd.
OUR TAKE
Representative Jacobs is the first of what we hope will be many RINO's who will suffer the consequences of betraying gun owners. May his example become loud and clear for any Republican, be they in the House or the Senate.
Law-abiding American gun owners are DONE accepting cowards, compromisers, and back-stabbers. We will not be patted on the head by the GOP and be told to sit down and be quiet.
May every Republican who does not toe the line in defense of the Second Amendment be warned that a similar political fate awaits them if they stab gun owners in the back.