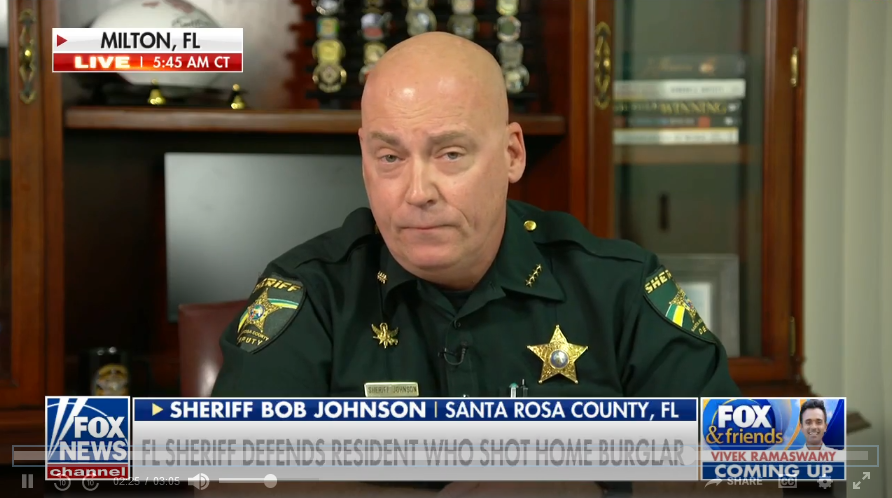 MILTON, Fla.- Santa Rosa Country Sheriff Bob Johnson doubled down on his comments from last week advising homeowners to shoot burglars in a Tuesday morning appearance on the Fox News Channel's morning news program Fox & Friends.
We reported how Johnson made considerable waves last week after saying at a press conference that residents in his county were "more than welcome" to shoot at someone breaking into their home.
"We prefer that you do, actually," Johnson told the press.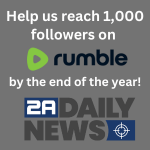 In his interview, Johnson did not back down from those comments one inch.
Watch the video here:
"If somebody breaks in your house in Santa Rosa County and you shoot and kill them, the chances of them re-offending after that are zero, and we like those odds," Johnson said. "So, in Santa Rosa County, if you break into a house, you roll the dice."
Johnson's followup comments come on the heels of his press conference last week where his department announced the arrest of one Brandon J. Harris, 32.
Harris has allegedly committed a spree of home break-ins on April 20th in the Santa Villa subdivision in the city of Pace, located just outside Pensacola, Florida.
Various media outlets reported that one of the homeowners whose property was targeted by Harris attempted to shoot him, but missed.
Harris has been described by Johnson as a "frequent flier" with a long string of run-ins with the law beginning at age 13, including serving a six-and-a-half-year prison sentence for home invasion.
The Pensacola News Journal reported that Harris had pre-existing charges of aggravated assault, battery and violation of probation and is registered as a high-risk sex offender.
Response From The Left
Johnson's comments at last week's press conference earned howls of indignation from Florida defense attorneys who were interviewed by National Public Radio earlier this week.
Jude Faccidomo, president of the Florida Association of Criminal Defense Lawyers (FACDL), accused Johnson of being "reckless" and turning Florida into the "Wild West."
"It's wildly irresponsible, because it essentially encourages people to use deadly force without giving it more consideration," Faccidomo told NPR. "There's often times that somebody is not an imminent threat to you."
But Sheriff Bob Johnson told Fox News that the community overwhelmingly supports him.
"I tell everybody 99% of the people here love law enforcement and the other 1% are in my jail currently," he said. 
OUR TAKE:
Of course, gun owners weren't surprised to hear that Florida's criminal defense attorneys didn't like Sheriff Johnson's vocal support for the 2nd Amendment!
After all, how many of them would be unemployed if there were no more 'frequent fliers' in the Criminal Justice system?
At the end of the day, every law abiding citizen has the right to defend themselves and their families with deadly force, if need be, from attacks by violent criminals — and we're darn happy Sheriff Johnson pointed that out.