Philadelphia was one of at least 12 major Democrat-led cities that experienced a record murder rate in 2021.
If there was any hope that 2022 would be any better, it's not. So far, 38 murders have occurred in the city of "brotherly love."
Breitbart News reported on one of the incidents that already took place this year in which a gang of thugs followed a police officer's son home and shot him nine times as he got out of his vehicle.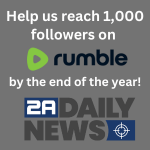 In the shooting, CBS News in Philly said that the man was followed from his workplace. When the man got to a corner store, he was shot in the back eight times, according to police.
Here is what police said at the time of the initial investigation,
We believe it was the result of a robbery. There is video. The case is still being investigated, as you can imagine. The police are out there looking for video now. He was shot approximately nine times — eight times in the back — but they feel like it was a robbery. Apparently, he's the son of a Philadelphia police officer, and he was home from school."
Gun owners in Pennsylvania, especially in Philadelphia, better get their concealed carry permits.
The government will not protect you. That is your duty.
Hopefully, Pennsylvanians can get Constitutional Carry this year or next year, and that way, they can defend themselves without needing permission from a government that has clearly let them down.