– Philadelphia, PA
Pizza drivers are a common target for robbers.
Drivers often deal in cash with their customers. To a robber, these transactions pose an easy score for some quick loot.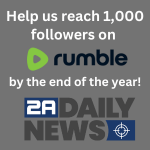 However, over the last few years, more and more of these instances are ending with delivery drivers using a firearm for self-defense.
In this story, a 21-year-old pizzaman was being carjacked and robbed at the same time. According to NBC 10 in Philly, the robbers forced the driver into the backseat of his car where they demanded cash or that he use apps from his phone to give them money.
However, the pizzaman was having none of it and managed to escape the car and fire at the robbers, striking one of them in the back.
The robber who was shot was found by police and taken to the hospital where he was listed as being in "stable" condition. The status and location of the other robber is unknown.
Now, the question is, will the pizzaman get to keep his job? Many companies prohibit drivers from defending themselves and have been known to fire them even though they acted in self-defense.
What do you think of the pizza driver's actions? Let us know in the comments below.