Gun owners across the country watched in early 2020 as Virginia's radical governor, Ralph Northam, and a slew of newly elected leftists gutted the Old Dominion state's gun laws. With the help of New York billionaire Mike Bloomberg, the anti-gun left had scored a major victory in flipping the state blue in the fall of 2019.
Just weeks after they were installed, those new Democrats took over the state and wiped the floor with gun owners. But once the left had revealed their nasty plan so clearly, gun owners had been trying to send a clear message that they will not sit idly by and let liberal politicians take over the state permanently.
And last night, Virginia gun owners got a massive boost after tossing Terry McAuliffe – a "Ralph Northam 2.0" character — into the political gutter!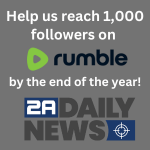 Just weeks before the election, McAuliffe set the state ablaze with anger and frustration after telling parents they didn't have a right to be involved in their kids' curriculum.
That statement prompted even more parents to sit up and take notice in Virginia! They let school boards know they were tired of the government trouncing on their rights — and they let McAuliffe know they were going to show up on election night.
But it wasn't just McAullife's attack on parental rights that got Virginians fired up.
McAuliffe made it clear he wanted to ban AR-15's and many other semi-automatic firearms. Additionally, he wanted to ban standard capacity magazines and the left's new favorite term, ghost guns.
Then, in true government overreach fashion, McAuliffe wanted to create an "Office of Gun Violence Prevention" to target gun owners while criminals roam free.
McAuliffe went "all in" on the anti-gun agenda, thinking Virginians would roll over and take it.
He was dead wrong.
The American Firearms Association blasted McAuliffe in an ad in Virginia, hitting him on his anti-gun stances. Here is the ad AFA put out,
2nd Amendment Daily News reached out to Aaron Dorr, the Director of State Operations, and asked him about Tuesday's result in the Virginia Governor's race. Here is what Dorr told 2ADN:
Gun owners in Virginia sent a loud message last night and that message is simple: any politician, anywhere, who votes to take away our right to defend ourselves and our loved ones is going to get crushed at the ballot box!

The American Firearms Association was proud to have played a heavy role in exposing Terry McAuliffe's record of hatred towards Virginia gun owners and we are looking forward to doing this to politicians in the US Congress and state legislatures around the country all the way up to the 2022 elections!"
Democrats everywhere are sounding the alarm after heavy losses in Virginia.
And it wasn't just Virginia where Democrats saw very concerning results. In one of the bluest states in the country, New Jersey, Democrats barely kept the governor's seat according to the latest results.
Have Americans finally awoken from their slumber? Are Americans ready to take their country back?
Gun owners should be very excited if Virginia is a sneak peek into what is coming in 2022. Now, Virginians need to work with their House of Delegates to reverse the terrible gun control passed over the last few years.
What did you think of Tuesday's elections?
Let us know in the comments below!