CHICAGO- Last weekend in the Windy City violent criminals unleash even more mayhem on the Windy City. The gun-toting criminals, who appear to be impervious to the numerous gun-control laws under the administration of Mayor Lori Lightfoot (D), resulted in 33 shootings and five fatalities, according to ABC 7 Eyewitness News.
However, this crisis in the Windy City escalated to a new level with two separate shooting incidents on Saturday around Millennium Park in the Loop, one of which resulted in a 16-year-old boy being shot in the chest. The young man died from his injuries.
The 16-year-old was killed around 7:30 p.m. Saturday at the Cloud Gate sculpture, commonly known as "The Bean," a top-rated tourist attraction in Millennium Park in the Loop, according to WGN 9.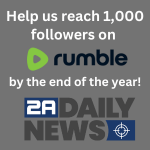 CBS 2 Chicago identified the victim as 16-year-old Seandell Holliday, a high school freshman.
Marion Richardson, a 17-year-old from Chicago, was arrested and is being held on $250,000 in connection with the shooting death of Holliday. CBS 2 Chicago reported that Richardson is being charged with one count each of second-degree murder, aggravated battery, and aggravated unlawful use of a weapon. He will appear in adult court on Monday due to the seriousness of the second-degree murder charge.
A large group of teens, numbering in the hundreds at minimum according to CBS 2 Chicago, had gathered at "The Bean" due to a "trend" that was advertised on social media.
The crowd of teens was described as being "rowdy" and disrupting traffic. Chicago Police made multiple arrests due to fights breaking out.
According to CBS 2 Chicago, one of Richardson's friends told police that a group began pointing at Richardson and started talking about him, adding that there had been a previous altercation between Richardson and someone in that group. A female then began to argue with Richardson.
"Prosecutors said, as Richardson walked in the crowd, Holliday jumped on his back and prosecutors say punched him in the head," CBS 2 Chicago reported.
"Prosecutors said Richardson then shot Holliday in the chest.
Richardson, who was wearing a bright yellow sweatshirt, immediately ran from the area along with many of the other people who were also present in the park."
Police caught up with Richardson about a block away on Michigan Avenue, where CBS 2 Chicago said they recovered the gun used in the shooting, which contained seven hollow-point bullets, a laser attachment, and an extended magazine. CBS 2 Chicago also reported that gunshot residue was found on Richardson's clothing.
At the time of the shooting, Richardson lived with his 21-year-old brother because his mother lived out of state, and his father had died, according to CBS 2 Chicago.
Curfews In Effect
In response to the chaos at Millennium Park, Mayor Lori Lightfoot, announced that no unaccompanied minors will be allowed into Millennium Park from Thursday to Sunday after 6 p.m. ABC 7 Chicago reported. Lightfoot further revealed that the citywide weekend curfew for teenagers would be lowered from 11 p.m. to 10 p.m. as of Monday.
In the hours after the killing of Holliday, CBS 2 Chicago reported that two young men were shot near Millennium Park.
The shootings occurred around 11:41 p.m. on Saturday when two male juveniles fired shots into a group of people walking.
"One of the victims, an unidentified man between 18 and 20, was shot in the neck and chest and was transported to Northwestern Hospital by the fire department in critical condition," CBS 2 Chicago reported. "The other victim, 18, was transported to Stroger Hospital with a gunshot wound to the left hand."
Two juveniles were questioned regarding the shooting; police told CBS 2 Chicago.
The Chicago Sun-Times reports that 196 people have been killed in Chicago via shooting since January 1st.
OUR TAKE:
Every city has rough neighborhoods in it. That has been true as long as there have been cities, which is one of the reasons we tirelessly advocate for the Second Amendment rights of law-abiding citizens so that they can defend themselves.
But in recent weeks, gun-toting thugs in Lightfoot's Chicago have been advancing into neighborhoods and locations that aren't usually synonymous with violent crime. Last week we brought you the story of 23-year-old DePaul University student Dakotah Earley, who was shot three times in the head and back by an armed robber while walking in the affluent Lincoln Park neighborhood just before Mother's Day weekend.
We're watching our city decline into criminal lawlessness," 2nd Ward Alderman Brian Hopkins told ABC 7 Chicago in response to the Earley shooting. "You know there literally is not a neighborhood in Chicago immune from this now. It happens everywhere. It can happen at any time, and it's just terrifying to people. This has to stop."
With the incidents in Millennium Park, it has now reached places where tourists congregate. One wonders whether Mayor Lightfoot will blame the inevitable shrinking of city revenue directly or indirectly from tourists' dollars on the lack of gun control at the federal and state level.
"We have a crisis in our city," Lightfoot said in a press conference reported by ABC 7 Chicago. "We need to take action. Doing nothing is simply not an option."
May we suggest relaxing your city's suffocating gun-control laws so that law-abiding citizens can defend themselves against the criminal thugs who seem to walk around the streets of your town with near-impunity, Mayor Lightfoot?