SHELBY COUNTY, OH – A 22-year-old man was shot and killed by his ex-girlfriend's father after he attempted to break into their home on Sunday, July 31st.
WLIO reported that the incident occurred around 11 a.m. Sunday at a home located in the 2900 block of North Kuther Road northwest of Sidney. A man identified as James Douglas Rayl, 22, of Sidney, was captured on a Ring video approaching the residence and beginning to beat on the front door, according to WKEF. According to a recording, a female who called 911 identified Rayl as an ex-boyfriend.
The homeowner told Rayl to leave the premises and also said he had a gun. WKEF reported that Rayl shouldered the door numerous times before breaking it and entering the house. The homeowner, identified by a woman who called 911 as her father, shot Rayl three times.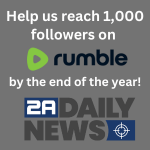 Rayl was pronounced dead at the scene.
OUR TAKE
Yet another case of the Second Amendment working as it should!
We applaud this father for successfully defending his daughter and his home. More than this, however, we praise him because he had the correct understanding that he was responsible for the defense and safety of his house. That's why he had the gun on hand in the first place.
Law-abiding, responsible gun owners understand this well, and we hope examples like this father will encourage more and more people to exercise their right to self-defense.